15 Railway Road North, Mulgrave NSW 2756 • Open Mon-Fri 8am-4pm, Sat 8-11.30am
Woodturning Classes
Your Friendly Neighborhood Woodworking Store
Aussie-owned since 1969. Specialists in fine woods.
Trend Timbers hosts' woodturning classes with renowned wood turning teacher John Ewart .
These classes range from Basic Turning Procedures for beginners to modules covering all aspects of more advanced woodturning. Each class has a maximum of 6 students and provides approximately 12 hours of instruction over two days (Saturday and Sunday) . Personal protective equipment is provided but students are welcome to bring their own face shields, dust masks or filtered helmets. Takeaway lunch is provided on both days and there is plenty of coffee/tea on hand as well as bottled water.
WE CURRENTLY HAVE HIGH STANDARD COVID-SAFE PRACTICES WITHIN OUR CLASSROOMS. CLASSROOM STERILISED EACH CLASS AND ALL MACHINES AND TOOLS STERALISED DAILY. MASKS WILL BE PROVIDED UPON COMMENCEMENT.
 Benefits of woodturning classes at Trend Timbers:
Learning with Australia's highest qualified specialist woodturning teacher John Ewart with 40 years experience teaching apprentices, craftspeople, hobbyists as well as Design and Technology teachers.
The opportunity to work with a range of exotic timber species
Developing safe correct turning techniques in a structured learning process
Learning essential safety procedures relevant to operating a lathe
Experience correct preparation and application of a range of finishes including waxes and oils
After class support from the teacher on technical issues or product advice through emails or phone
No hidden costs – single price covers instruction, tools, timbers, safety gear and takeaway lunch, simply book in and turn up!
Class handout provided for Module 1 students and a monthly email newsletter is forwarded to all students
Please see link below for current dates of our courses:
 https://trendtimbers.com.au/our-events/ 
Module 1:
Basic Turning Procudures
$315
Price covers instruction, tools, timbers, safety gear and a takeaway lunch!
Please note that module 1 is a pre-requisite for all other modules. This applies to all students irrespective of self-assessment of skill level. Undertaking this module supports our safety record and assists the student in developing correct cutting skills in a gradational process throughout more advanced modules.
Day 1
The prime objective is to develop basic skills related to woodturning in a safe manner while turning between centres. Each exercise is part of a gradation of learning of the correct techniques and developing relevant knowledge . Before operating the lathe students are given an overview of features of both lathes and tools . Safety is introduced at this point and then integrated throughout the classes.
Day 2
Concentrates on knowledge and techniques related to face turning in the form of a bowl.  While preparing and turning a bowl the students learn about procuring timber, seasoning, chuck and jaw selection as well as sanding and finishing techniques. This module makes the student aware of when to select either a cutting or scraping presentation and in which direction to move the tool and why.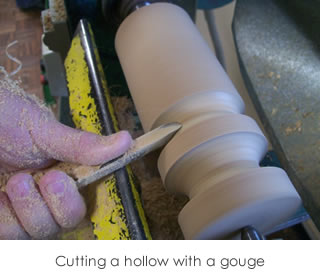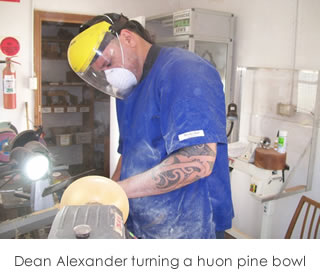 Module 2:
Concentrated Bowl Turning
$395
Price covers instruction, tools, timbers, safety gear and a takeaway lunch!
This module expands on basic bowl turning techniques and introduces a range of holding devices.
During this course the student produces a minimum of 4 different style bowls using a range of tools.
Each bowl is turned from an attractive range of turning timbers such as Myrtle, Huon Pine, New Guinea Rosewood, Purple Heart, Padouk, Zebrano, Wenge, Tasmanian Blackwood etc.
A range of polishes are used such as Shellawax and EEE Ultra shine waxes, Rustins Danish oil plus natural oils from the Organoil range.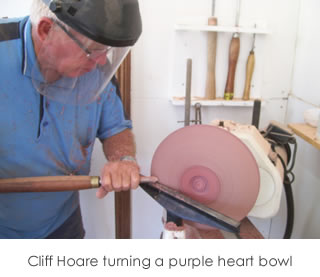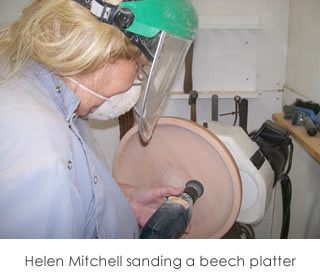 Module 3:
Free End Turning
$315
Price covers instruction, tools, timbers, safety gear and a takeaway lunch!
Develops knowledge and skills involved in hollowing articles when the grain is running parallel to the axis of the lathe.
During this course students make egg cups, a vase, trinket box and goblet using a variety of techniques.
Specialist tools such as ring gouges and articulated cutting systems are introduced.
Attractive timbers such as myrtle, huon pine, coachwood, silver ash etc, are available to use.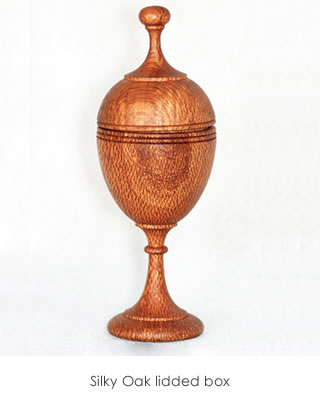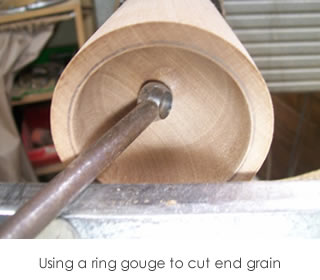 Module 4:
Furniture Turning
$315
Price covers instruction, tools, timbers, safety gear and a takeaway lunch!
This course is for people who wish to expand their skills to make or repair furniture components using correct traditional skills.
Included are new techniques in shaping a pommel on a square block, turning compound  and reverse curves, slice/cutting across end grain and forming beads adjacent to square blocks.
Key skills are reinforced including turning beads, hollows and thumbmoulds. Articles produced include stool rails, coffee table legs, drawer knobs and a milking stool.
Special attention is given to the use of the skew chisel for slicing, shaping and smoothing as well as using a detail gouge to shape concave curves.
.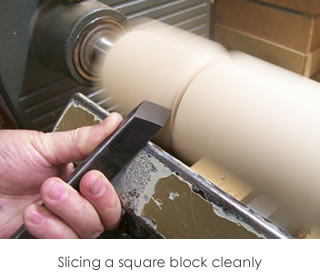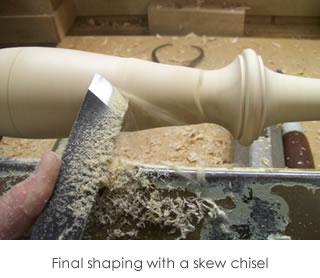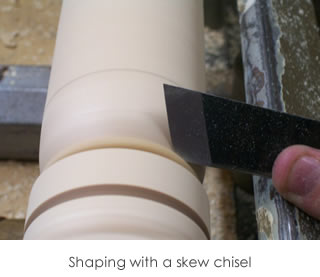 Module 5:
Mandrel & Pre-bored Work
$315
Price covers instruction, tools, timbers, safety gear and a takeaway lunch!
This module concentrates on turned articles that have grain running parallel with the axis of the lathe and are bored prior to mounting.
It involves tuition on safely pre-boring timber using a variety of tools including hand held augers, spade bits and twist bits.
Holding devices used include scroll chucks with mandrels, 45mm jaws ,pin centres and morse taper mandrels. Articles turned in this course include pens, table lamp, candlestick and peppermills.
An attractive range of timbers is available to make each item eg. Black heart sassafras, Tasmanian blackwood, Red cedar, Oak, Walnut etc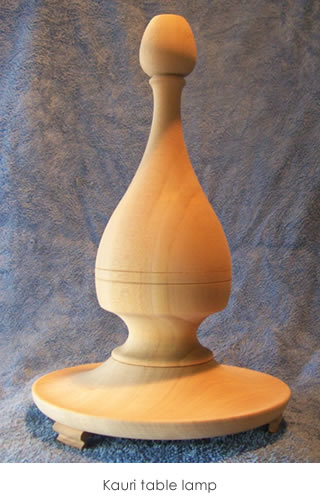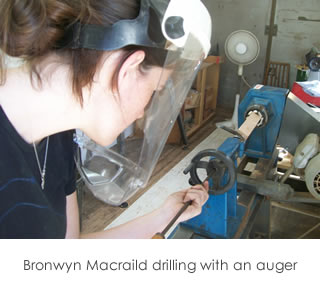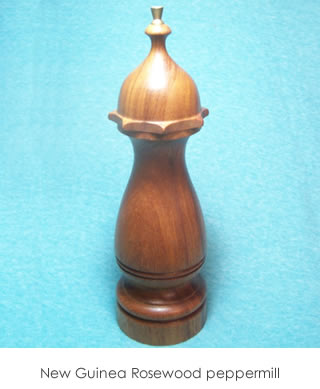 Module 6: Eclectic Projects (NEW)
$315
Price covers instruction, tools, timbers, safety gear and a takeaway lunch!
This module allows the student to choose from a range of projects which reinforce existing skills while developing new ones.
It encourages the student to develop skills in designing as well as making articles.  The exercises can be drawn from other modules or projects to suit the students individual needs.
The projects chosen may combine aspects of various skills involved in making articles such as : Eggcups, Goblet, Lidded Trinket Box, Serviette Rings, Tileboard, Bowl using Cole Jaws , Coffee Table Legs, Milking Stool, Drawer Knob  etc.
This module provides the student with a broad understanding of woodturning techniques while using attractive timbers such as Imbuia, Rosewood, Padouk, Wenge, Mahogany, Blackheart, Sasafras etc.